Hey Everyone! Today, Liz from Tales from Astoria is going to tell you all about St. Brigid. Check out Liz's mini bio at the bottom of this post, and her blog here.
St. Brigid became one of my favorite saints as I prepared for Confirmation in the eighth grade. I was looking for a "different" saint (a.k.a. not one that all of the other girls had picked). I knew I wanted a female saint who had something to do with education and helping those in need. St. Brigid fit the bill perfectly (it didn't hurt that she was Irish either).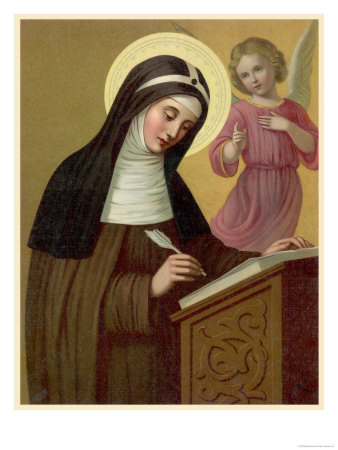 St. Brigid lived during the 5th century. She became a nun and founded her own convent and several schools. Her convents and schools became renowned. She is known as the patroness of students. There are many miracles attributed to St. Brigid. However the most well know is about the conversion of a dying pagan chieftain. He was barely conscious and Brigid came to pray beside him. When he awoke he found, her praying beside him and a Christian Cross on his chest. As a result of the great mercy God had shown him by saving him, St. Brigid baptized him along with the rest of his village.
It is said that St. Brigid converted her father while making a cross out of grass-like plants. During that time, farmers began making similar crosses at the beginning of Spring to help protect their crop and animals. The crosses were placed in prominent places in their barns and homes.
February 1st is the St. Brigid's feast day. On this day some people still make or purchase crosses with the hope of receiving a special blessing from St. Brigid.
Here's a quick pipe cleaner tutorial from CatholicIcing. She also suggests a wonderful picture book and a printable for the feat day.
Maybe you could start a new tradition with your little one?
You were a woman of peace.
You brought harmony where there was conflict.
You brought a light to the darkness.
You brought hope to the downcast.
May the mantle of your peace cover those who are troubled and anxious,
and may peace be firmly rooted in our hearts and in our world.
Inspire us to act justly and to reverence all God has made.
Brigid you were a voice for the wounded and the wear.
Strengthen what is weak within us.
Calm us into a quietness that heals and listens.
May we grow each day into greater wholeness in mind, body and spirit.
Liz blogs at Tales From Astoria about her life with her wonderful husband and sweet little boy. She is a former math teacher and guidance counselor. In her free time, she enjoys cooking and c
rafting.